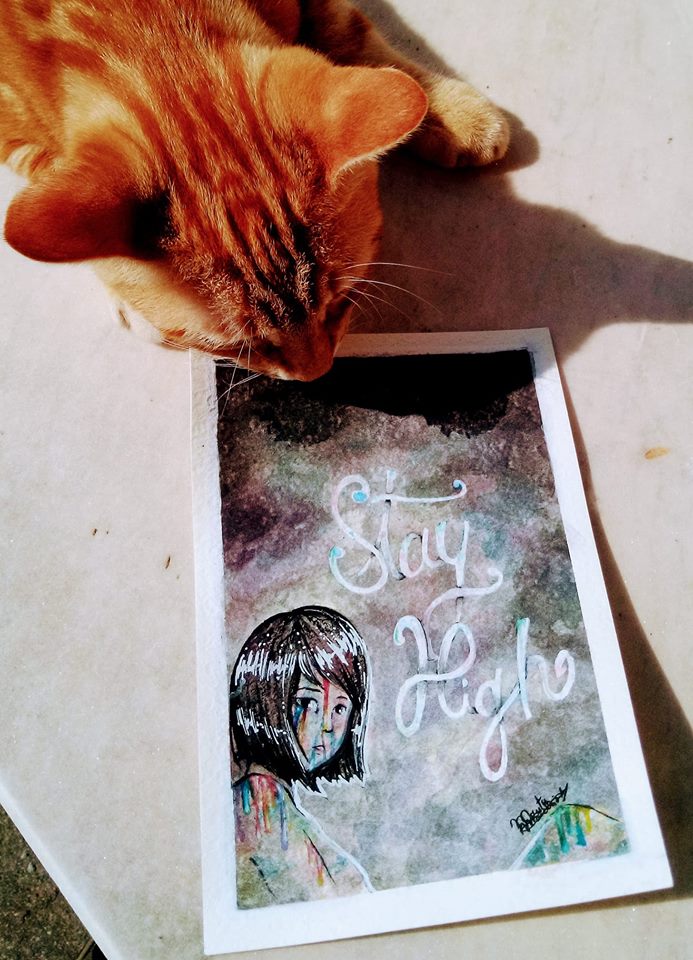 [Eng]
(Winsor & Newton Watercolors on Fabriano Watercolor Paper cm 12,5 x 18)
Inspired by Tove Lo – "Habits" (Hippie Sabotage Remix)
"You're gone and I got to Stay High"
This is what the drawn girl thinks, but she has not managed to keep her purpose. The colored ink which is dripping from her body represents her mind that is yielding, and the fact that the girl occupies the lower part of the sheet means that she literally failed to "Stay High".
[Ita]
(Acquerelli Winsor & Newton su carta da acquerello Fabriano cm 12,5 x 18)
Ispirato dalla canzone Tove Lo – "Habits" (Hippie Sabotage Remix)
"Te ne sei andato ed io devo rimanere in alto (si intende moralmente, "non crollare/cedere mentalmente")"
Ovvero quello che la ragazza disegnata pensa, nonostante non sia riuscita a far fede alle sue parole. L'inchiostro colorato che cola dal suo corpo rappresenta la sua mente che si sfalda e cede, ed il fatto che la ragazza occupi la parte inferiore del foglio sta a significare il suo letterale fallimento nel "Rimanere in Alto".